Kad smo prvi put (službeno) čuli da će telefoni imati dijagonale od 5,8 i 6,2 inča, činilo nam se to pomalo suludo, iako autor ovih redaka obožava velike mobitele.
Međutim, kad smo po prvi put uzeli u ruke novu osmicu, ostali smo blago zaprepašteni. Telefoni u ruci ne djeluju velikima, praktični su za nošenje i korištenje u svim situacijama jer nemaju veliku širinu - S8 je čak uži od S7 modela s ekranom od 5,1 inča, S8+ je samo malo duži ali i primjetno uži od recimo modela Galaxy Note 4, a ovakav rezultat nije slučajan nego je na djelu novi trend da telefoni na prednjoj strani praktički imaju samo ekran, bez ikakvih dodatnih tipki ili čak napisanog naziva proizvođača telefona. S obzirom da oba modela, i S8 i S8+ imaju ekrane praktički od lijevog do desnog ruba (kao prethodni edge modeli) te da iznad i ispod ekrana ima još vrlo malo površine na kojoj se ne nalazi ekran, jasno je kako iz Samsunga pušu novi vjetrovi koje će mnogi početi slijediti. Tipke za upravljanje telefonom smještene su na dnu ekrana.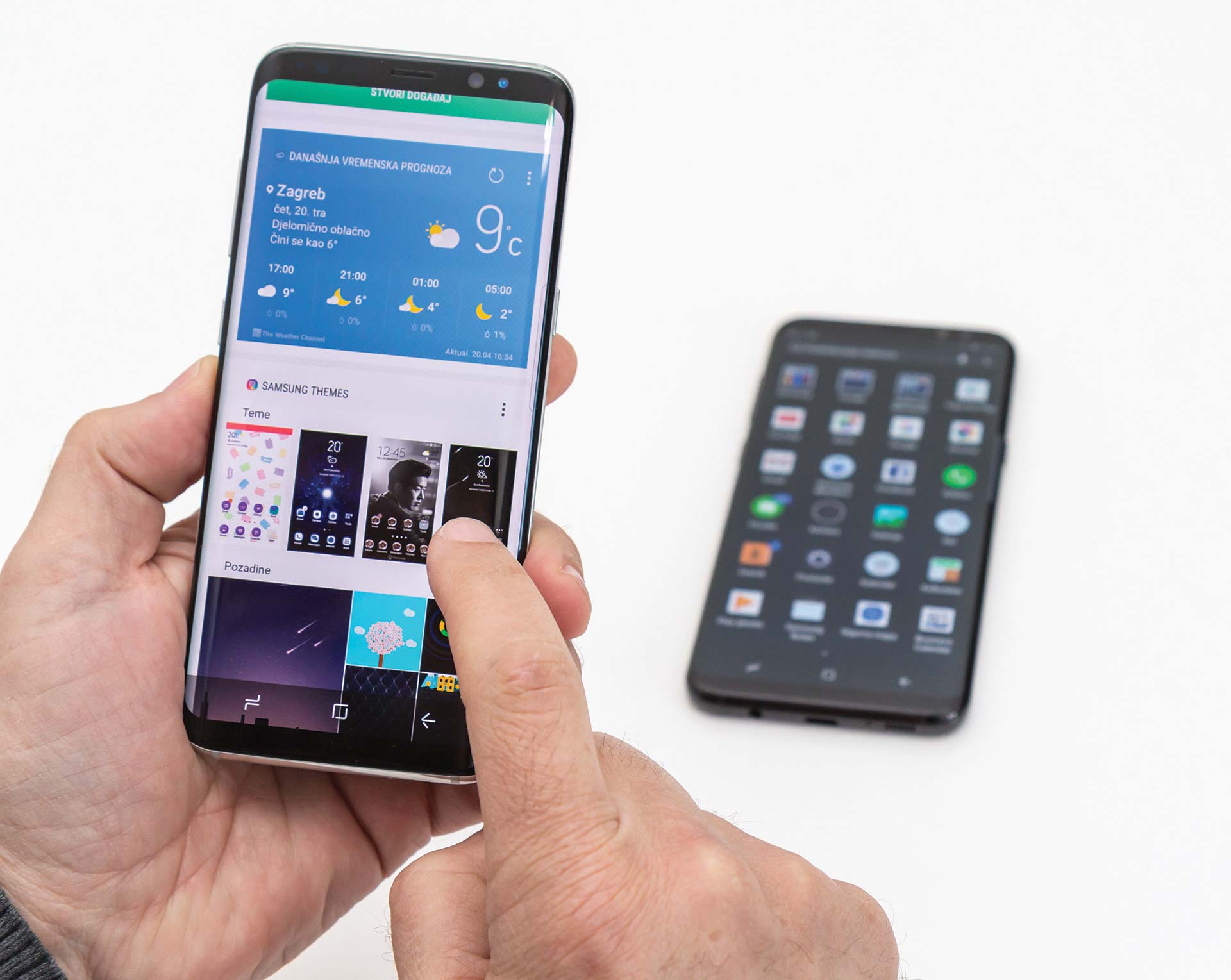 BIXBY:

Potpuno novi naziv u telefonu označava virtualnog digitalnog pomoćnika

Nema više ravnog ekrana nego su oba modela sa zakrivljenim ekranima na kojima se prikazuju razni Edge widgeti kakve viđamo već nekoliko godina. Dakle, to na prvu nije novost, ali je ipak novost jer (više) nema modela s flat ekranom u flagship kategoriji. Iako vam se čini da se nema gdje primiti telefon, u stvarnosti nema dodira s ekranom dok se telefon pridržava u ruci. I zgodno je što se i veliki S8+ može koristiti vrlo ugodno, iako se ne može s jednom rukom dohvatiti vrh ekrana. Očekivano, straga smješteni senzor otiska prsta je previsoko postavljen, ali samo ako ne koristite telefon na ispravan način - pridržavanjem u sredini.

Tako da se lako dolazi do senzora otiska prsta, ali vjerojatno i do leće stražnje kamere koja će tako uvijek biti zaprljana. Na Note7 smo po prvi put koristili senzor šarenice oka i bili oduševljeni, a isto smo postavili i na nove Galaxy osmice - otključavanje je trenutno, u tren oka te je najpraktičnije, iako dobro radi i prepoznavanje lica. Izbor načina otključavanja je zaista bogat. Ako vas zanima, zadržan je 3,5 mm ulaz smješten na dnu telefona, pored USB Type-C ulaza.

Nastavak recenzije i recenziju Galaxy S8+ modela pročitajte ovdje.