Nekima bi Core X5 Riing Edition bio prst u oko, a nekima prilika za unikatni build (nVidia teme). Nama se osobno dopao, što zbog neobičnog "kutijastog" dizajna, što zbog boje, a ako vam se ne sviđa možete odabrati i crnu. Poanta neobičnog dizajna i gabarita ovog kućišta je da može komotno udomiti bilo kakve komponente, pogotovo ako je riječ o custom vodenom hlađenju u korist onih korisnika entuzijasta. Naravno, prozirna stranica je u takvom slučaju neizbježna zbog pokazivanja unutrašnjosti u punom sjaju ili neredu.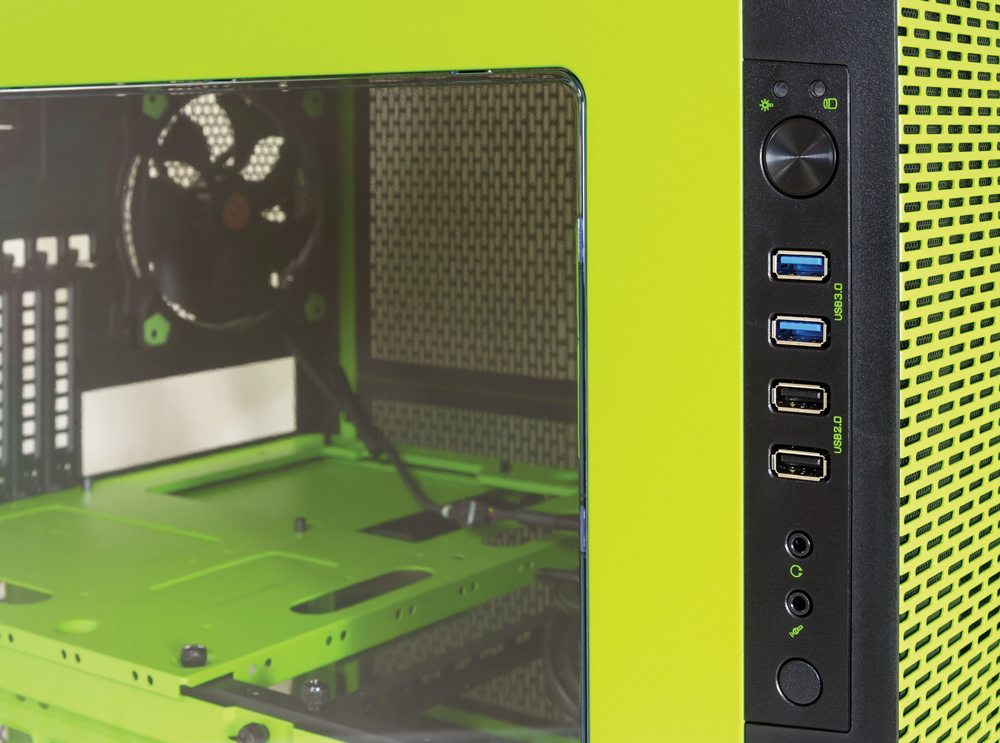 Standardne kontrole postavljene su s lijeve strane kućišta, a tamo ćete osim klasičnih stvari, poput prekidača za paljenje i ponovno pokretanje, naći čak četiri USB porta, od kojih su dva USB 3.0 a dva USB 2.0.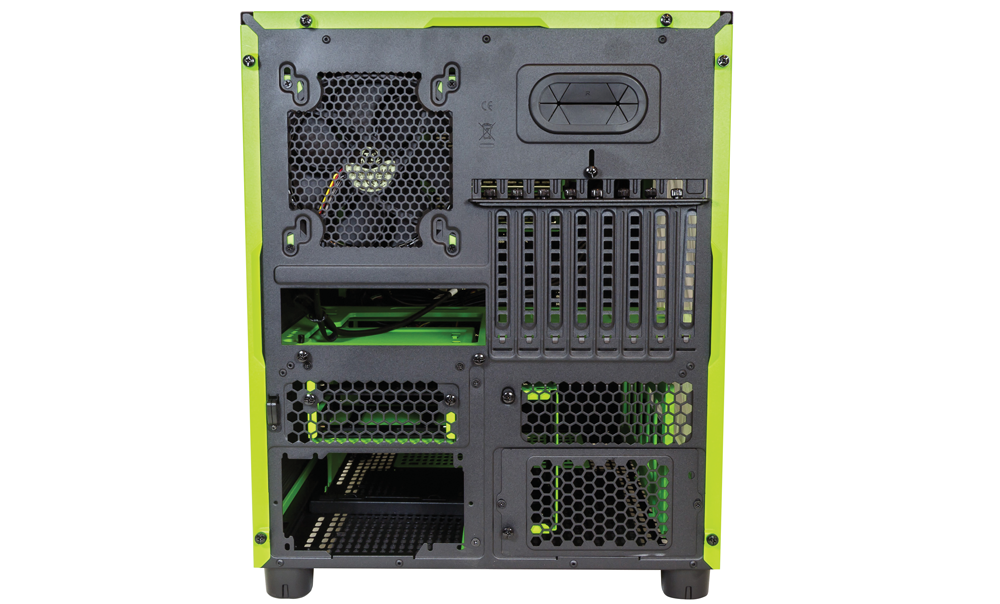 Pogledom na stražnju stranu Core X5 malo podsjeća na noviju generacija kućišta koja imaju odvojenu lijevu i desnu komoru, ali u njegovom slučaju to nije tako. Ubrzo ćete zaključiti koja je orijentacija matične ploče (vodoravno), donji dio otkriva dva izreza za napajanje tako da možete birati hoćete li ga staviti s desne ili lijeve strane ili čak koristiti dva u sklopu iste konfiguracije. Obzirom na svoju veličinu, Core X5 zapravo i ne može smjestiti puno diskova (ukupno 7), a veći fokus odlazi prema mogućnosti ugradnje radijatora u sklopu naprednijeg custom loop vodenog hlađenja. Tako ćete osim klasičnih mjesta (gornja i prednja strana kućišta), naći i posebne nosače radijatora koji dodatno proširuju kapacitete ovog modela.
Veliki gabariti kućišta automatski donose i puno prostora za jednostavnu instalaciju komponenti. Iako s cable managementom neće biti problema, teško ćete ih imati gdje sakriti jer je sve dosta otvorenog tipa. Iako je ovaj model kućišta specifične namjene, ne možemo se oteti dojmu da bi se moglo proraditi na unutrašnjosti. Nekako imamo osjećaj kao da prostor nije dobro iskorišten, a to posebno dolazi do izražaja kada bacite pogled na njegovu cijenu.
Maloprodajna cijena s PDV-om:
1.126,89 kn