Acerov R7 spoj je hibridnog dizajna i snažnog prijenosnika za sve namjene koji nadilazi gabarite ultrabooka, iako na tu kategoriju donekle podsjeća. Ovo je high-end uređaj, pa mu je takva i cijena te nije za svaki džep.
Od pojave hibridnih uređaja, jedna od glavnih stavki postao je mehanizam pomoću kojeg se izvodi transformacija oblika korištenja. Model R7 ima sustav s Ezel šarkom koja omogućuje nekoliko načina korištenja. Prvi je uobičajeni način za prijenosnik, drugi je približavanje ekrana odmah iznad tipkovnice koja je na ovom modelu zamijenila svoje mjesto s touchpadom. Sljedeći način rada je kao podloga i najsličniji je tabletu, iako ga s ovom veličinom i masom nije praktično nositi. U posljednjem modu rada ekran se okrene na zadnju stranu i zapravo služi u prezentacijske svrhe, pri čemu se zvuk prebacuje automatski na stražnje zvučnike.
R7 donosi novi Haswell i7 4500U procesor, čak 8 GB RAM-a i snažnu grafičku karticu GT750M. Zajedno s kvalitetnim Full HD ekranom to rezultira vrlo dobrim performansama, a prijenosnik bez problema može poslužiti za ozbiljan gaming.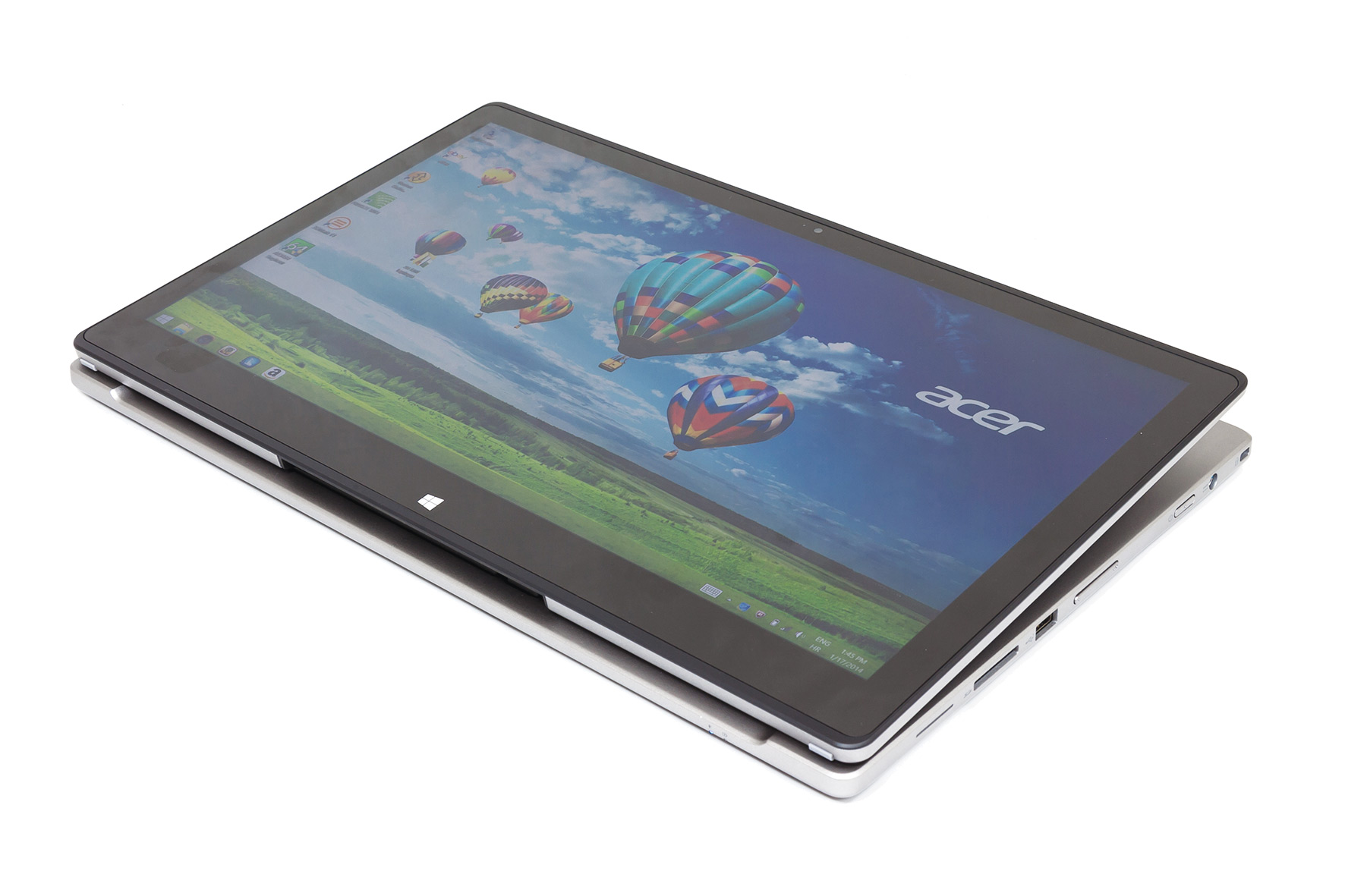 Tome bi se ipak mogao ispriječiti dizajn koji oscilira od prvog "vau" dojma, do uzdaha negodovanja. Kada idete nešto ozbiljnije raditi na Windowsima 8.1, ipak to radite u desktop sučelju. Koristan je tada prostrani touchpad, međutim njegov smještaj iznad tipkovnice je recimo nespretan. Tipkovnica je kvalitetna i ugodna za pisanje, ali nedostaje numerički dio. Osim toga, tipke sa strelicama i Enter su male. Prijenosnik dolazi s četiri zvučnika i Dolby Home Theater v4 tehnologijom. Najveća prednost je dizajn, a upravo mu je to i najveća mana, ovisno o tome koliko ste se navikli na Windowse 8 i koje zadatke želite s njim obavljati. Izrada je kvalitetna, kućište je od aluminija, a ergonomski smeta velika masa od 2,5 kg, no pogled na snažne specifikacije unutar laptopa otkriva zašto je tome tako.