Na Yoga 900 13 modelu taj je dio doživio upgrade i zove se Watchband. Ekran i kućište spojeni su nizom šarki koje izgledaju poput otmjene narukvice ručnog sata. Izuzmemo li vizualni dojam iz priče, one doista funkcioniraju kako bi trebale, s idealnim omjerom čvrstoće, otpora koji pružaju i lakoće okretanja ekrana.
Osim tih čvrstih šarki, prijenosnik je i inače vrlo čvrst i kompaktan, izvana obložen aluminijem, a u unutrašnjosti gumiranim mat materijalom. IPS ekran iz Samsungove radionice je odličan, osjetljiv na dodir i obložen Gorilla Glass 4 staklom. Visoka rezolucija, dobri kutovi vidljivosti i svjetlina, što znači da je ukupno među boljim ekranima.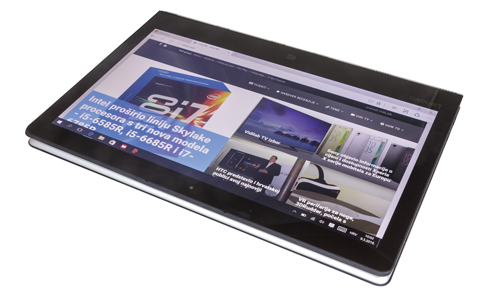 Tablet

: S velikim dodirnim ekranom dobivate kada Yogu u potpunosti preklopite

Na toj visokoj razini je i tipkovnica koja je vrlo urednog layouta (čak su i tipke za smjer pristojne veličine), bez imalo uvijanja, vrlo udobna za tipkanje, u IBM-ovskom stilu, uz dodatak pozadinskog osvjetljenja.
Modovi korištenja

: Tzv. šator način zgodan je za prezentacije

Već nekoliko puta viđeni Core i5 obrađuje procese unutar Yoge, a to radi u suradnji s 8 GB radne memorije i SSD-om od 256 GB. To u prijevodu znači, vrlo dobro korisničko iskustvo, responzivan sustav sposoban je za sve zadatke (gaming samo na casual nivou i sa smanjenom rezolucijom, jer laptop raspolaže samo integriranom karticom). Zadovoljavajuća je i autonomija od skoro 6 sati na našem custom testu, što znači da ćete puno toga moći odraditi prije nego vas iznevjeri na poslovnom sastanku.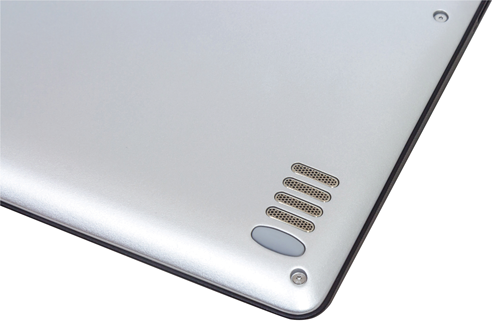 Zvučnici

: Kao i kod većine, problem su basovi, ali zvuk osim toga nije loš, dapače

Zvučnici su smješteni s donje strane uređaja i bolje rezoniraju na drvenom stolu nego na krilu. Zvuk je vrlo dobar, zvučnici glasni, ali kao i kod drugih, pati od nedostatka definicije niskih tonova.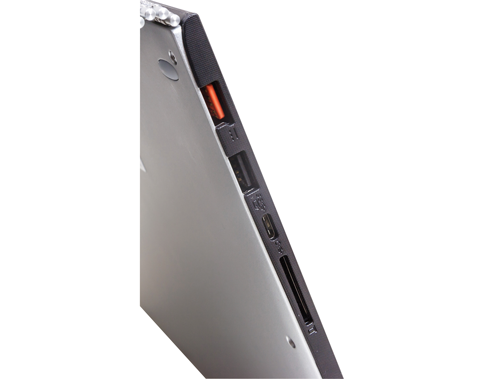 Jedan, ali vrijedan:

USB 3.1 je među sučeljima, ali radi se o prvoj generaciji, pa osim Type C konektora nema benefita u brzini

U ovom high-end razredu svaki od modela ima nešto čime se pokušava izdvojit. Lenovo aduti su QHD ekran, odlična kvaliteta izrade i okretanje ekrana te korištenje u više modova (zgodno za prezentacije u kombinaciji s touchscreenom). Performanse sustava su dobre, tipkovnica također vrlo kvalitetna. Mali prigovor ide nešto manjem touchpadu, a treba spomenuti i da je cijena poviša.

Cijena: 10.599,00 kn