Kod izrade najviše valja istaknuti ekran koji je IPS, odličnih performansi i neće zakašljucati previše ni u gaming okruženju. Prikaz boja i kontrast je u vrhu All in One klase, ako u to ne ubrajamo iMac. Ispod ekrana je u već viđenom stilu soundbara smještena kutija za zvučnike, pri čemu je zvučna slika i više nego dovoljna da ispuni i veću prostoriju, ali nedostaje definicije u srednjim tonovima, dok su basevi očekivano teško ostvarivi. Hardverski setup je u najmanju ruku neobičan, ali mahom kao i kod svih AiO uređaja baziran na mobilnim komponentama. Tako sustavom upravlja Intelov dvojezgreni i7 procesor Kaby Lake generacije u kombinaciji s čak 16 GB radne memorije, ali nažalost naš testni primjerak nema SSD. Ove serije imaju u ponudi model sa SSD-om i ako se odlučite za ovaj uređaj u 2018. godini definitivno odaberite onaj koji ga ima.
Naš konkretni uređaj dolazi s terabajtnim hard diskom, što isto nije loša opcija, ako imate hrčak sklonosti. Uz navedeno, tu je i mobilna grafika nVidia GeForce GTX 930 koja je granično dovoljna i za e-sports / MOBA naslove, ali hajde, dat ćemo ocjenu da se nešto može igrati na ovom stroju, mada je to daleko od gaming uređaja.
Zanimljivo je smještena kamera: nalazi se na donjoj strani kućišta i izvlači se van na dnu kućišta. Riječ-dvije i o periferiji.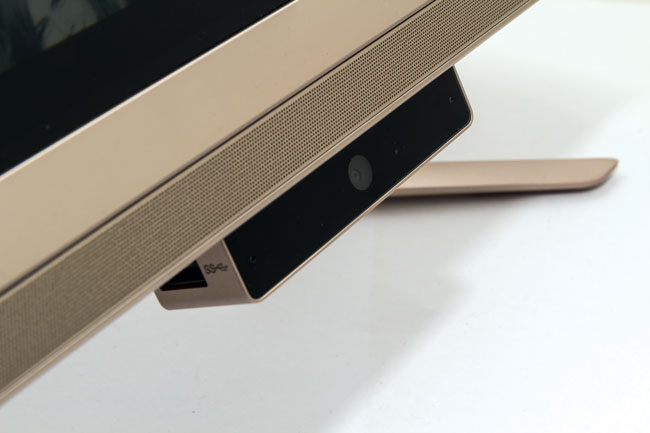 Bežični miš i tipkovnica zauzimaju jedan od malobrojnih USB utora. I dok je tipkovnica solidna, s relativno plitkim hodom tipki, uz zamjerku manjeg entera i "utopljenih" tipki za smjer, ali vrlo dobrog osjećaja tipkanja, miš nam nikako nije sjeo. Uz lošu ergonomiju, touch kotačić sam više lovio nego koristio. Miš je definitivno prva stvar koju bih promijenio na ovom uređaju.

Ukupno, radi se o lijepo izvedenom uređaju solidnih performansi i odličnog ekrana: radi se, kao i kod ostatka testnih modela, o laptop hardveru zarobljenom u kućište monitora.