Nedavno predstavljanje novog grafičkog čipa od strane nVidije donijelo nam je nekoliko novih podmodela baziranih upravo na njoj, GTX 960, kodnog naziva Maxwell GM206. Brandovi su istog trenutka upotpunili ponudu svojih grafičkih kartica, a naravno jedan među njima je i Asus, koji je odmah implementirao svoj aktualni i relativno novi dizajn STRIX aftermarket hladnjaka.
Riječ je o jednom među prvim hladnjacima koji su upotrijebili 0 dB odnosno 0 RPM način rada ventilatora ovisno o opterećenju i temperaturi grafičkog čipa. Budući da je Maxwell arhitektura izuzetno efikasna i kao takva otpušta malo topline i ima mali TDP, moguće je pasivno hladiti GPU-ove u mirovanju, pa čak i pod laganim opterećenjem pojedinih 3D igara. Ovo pogotovo vrijedi ako imate dobro prozračeno kućište. Tako smo u pravilu mjerili od 40-45°C stupnjeva u potpunom stanju mirovanja i ugašenim ventilatorima, dok se s upaljenim ventilatorima to spustilo debelo ispod. Pod punim opterećenjem kartica je bila dosta glasna, moramo priznati; razlog tome su vjerojatno bili mali 80 mm ventilatori, no temperatura se zato jedva penjala iznad 60°C. Hladnjak izgleda vrlo cool, definitivno je jedan od ljepših dok je on sam u suštini zapravo baziran na općepoznatoj i sveprisutnoj (barem u njihovom portfelju) Asusov DirectCU II tehnologiji.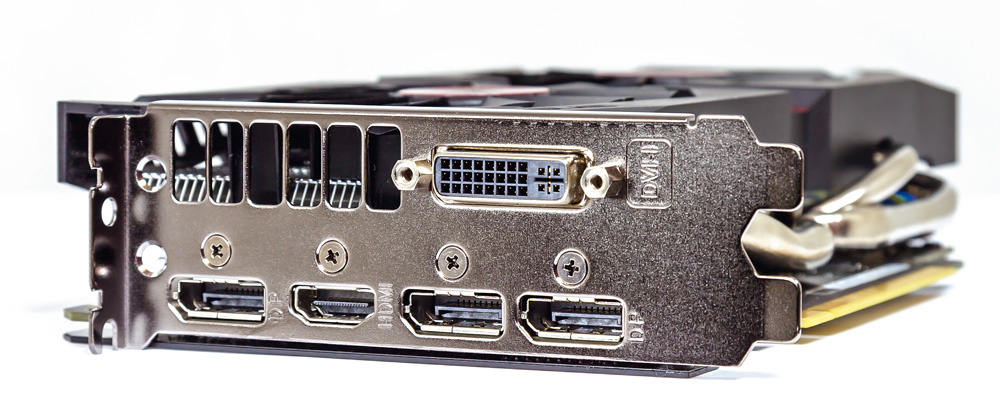 DisplayPort u fokusu

Dominacija od čak tri takva izlaza uz po jedan HDMI i DVI-I, ukupno podržavajući rad na četiri monitora od jednom


U svakom slučaju odlično će stajati uz bilo koje komponente koje će ga okruživati i u kućištu u kojem će se nalaziti. Kartica je isto dosta kratka sama po sebi tako da će bez problema ići u manje, recimo mini-ITX modele kućišta. Za napajanje se koristi samo jedan 6-pin PCI-express power konektor koji je i više nego dovoljan da kartici dostavi dovoljno snage za rad u kombinaciji s PCI-express slotom (otprilike 150 W), čak i u slučaju kad je overclockiran.

Obzirom da smo se dotaknuli i te teme, Asusova STRIX GTX 960 dolazi s dosta povišenim osnovnim radnim taktovima koji su zapravo tvornički overclockirani s njihove strane. GPU boost clock za ovaj model iznos nešto iznad 1,3 GHz dok se daljnjim ručnim overclockingom i igranjem po postavkama MSI Afterburner alata za overclockiranje bez problema postiže debelo preko 1,4 GHz, dok memorija sa 7200 MHz ide sve do 8000 MHz efektivno. Ovo u prosjeku donosi od 10-20% bolje performanse, što definitivno nije za baciti budući da je ulog jednak nula kuna. Već smo i prije zaključili, na našoj prvoj recenziji GTX 960 modela, kako je ovaj grafički čip kao stvoren za 1080p igranje na high postavkama i pored toga doslovno ništa drugo, što se igranja tiče. Iako ćete se, naravno moći igrati i na većim rezolucijama, mala 128-bitna memorijska sabirnica i svega 2 GB VRAM-a sprječavat će vas u tome. Već i na 1080p neke od zahtjevnijih igara u potpunosti su iskorištavale VRAM na 1,8 - 1,9 GB.

Ako ste u potrazi za novom grafičkom karticom, a ne mislite upgradeati svoj 1080p još barem godinu ili dvije, generalno gledajući GTX 960 kao grafička kartica ove jačine predstavlja idealan ulog u budućnosti. Iako iz crvenog tabora ima također solidnih ponuda koje joj mogu parirati, pogotovo po cijeni, ima nas onih koji ipak nekako naginju na zeleno. Naravno, kako to uvijek biva, Asusovi modeli na našem tržištu "vode" po pitanju skupoće proizvoda, no to je jednostavno tako i uvijek je bilo. Tako je ovaj model u prosjeku 100-200 kuna skuplji od konkurenata za koje ne možemo reći da su loši; dapače, ali opet, svatko ima svoje preferencije prema određenom brandu.