Fujitsu U745 prijenosnik namijenjen je poslovnim korisnicima, rečenica je to koja se ponavlja za bezbrojne modele raznih proizvođača. Iako dizajn nije bio prvi na listi prioriteta, na prvu se vidi da je U745 u svojoj biti poslovna mrcina. Išlo se taktikom sastavljanja konfiguracije bez kompromisa, pa je na kraju i cijena poveća.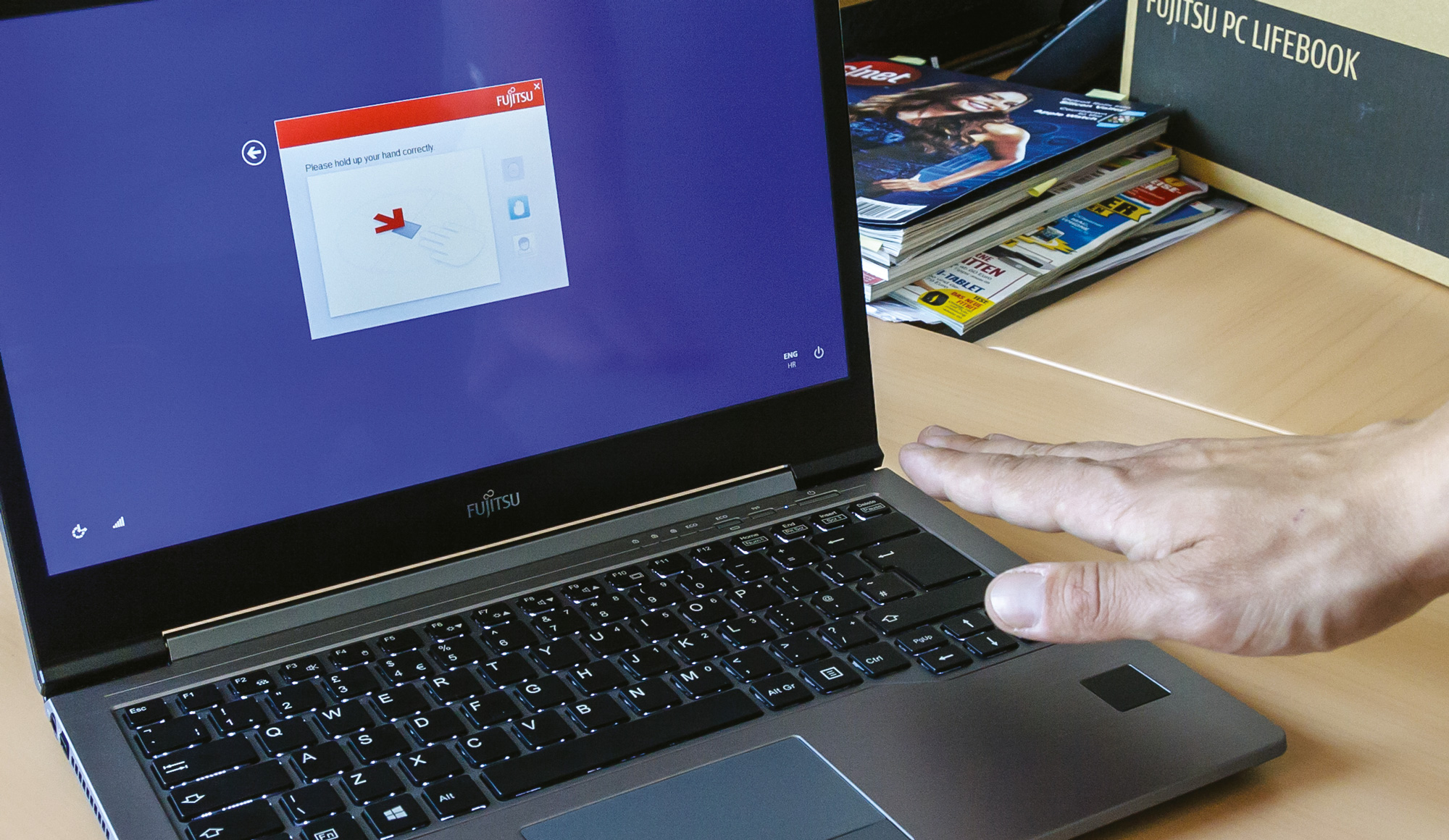 Biometrija

Otključavanje profila u Windowsima 8.1 moguće je prepozavanjem dlana

Vrlo čvrsta i elegantna izrada prvo je što se primijeti na U745 modelu. Magnezijska siva legura s Fujitsu logom na poklopcu ekrana i aluminijski palmrest doprinose dojmu čvrstoće, a šlag na tortu je spoj ekrana i kućišta koje pruža veliki otpor. U skladu s tom kvalitetom izrade idu i konzervativni touchpad s dvije odvojene tipke i tipkovnica udobna za tipkanje, bez uvijanja i što je pohvalno, s punim enterom i strelicama za smjer.
Ko' to gleda

Logiranje uz prepoznavanje lica, a moguće je podesiti i automatsko odlogiravanje iz Win sučelja ako ne prođe provjera lica


Hardversku osnovu čini jaki i7 procesor pro verzije, koji uz SSD od 256 GB i 12 GB radne memorije bez problema pokreće sve aplikacije. Dojam brzine i čvrstoće jako su bitni za poslovne korisnike. A kad smo kod njih, ovaj lagani ultrabook opremljen je svom silom sigurnosnih dodataka za mokre snove IT admina u velikim korporacijama. Za sigurno logiranje postoje opcije smart carda, biometrijskog čitača dlana ili prepoznavanja lica, uz naravno standardnu mogućnost lozinke. Aplikacija Workplace protect na jednom mjestu objedinjuje sigurnosne značajke, a možete primjerice podesiti da kamera svakih nekoliko minuta očitava lice i ukoliko ga ne prepoznaje, uređaj ide u sleep. Tu su i opcije advanced theft protection, full disk enkripcije, pa vam za obijanje Lifebooka treba vjerojanto James Bond.

Dock proširenje

Osigurava plejadu raznoraznih priključaka
Za ultimativnu prenosivost pobrinuo se slot za SIM karticu koji podržava LTE. Da nije sve apsolutno bajno dokazuje ekran, koji ima nešto slabije kutove gledanja i za tu cijenu bi trebao imati još višu rezoluciju. Dodirni zaslon je doduše vrlo responzivan.
Ukupno, vrlo potentan prijenosnik s profi mogućnostima, mogućnošću spajanja na dock, uključen je display port izlaz, a prilično pozitivan dojam kvari visoka, no očekivana, cijena.